In November 2018, the project of Let every child sing the song of his hometown - the inheritance of excellent traditional Chinese music culture in Shawan Village in Doumen, Zhuhai , presided over by Professor Zheng Yanwen and the project of Renovation design of Shawan Village in Doumen, Zhuhai presided over by Assistant Professor Wu Zongjian, were invited to participate in the project of CCTV documentary See Village Again. Professor Zheng Yanwen's team carries forward the excellent traditional Chinese music culture through the investigation, collection, creation and inheritance of Shawan Village, in order to realize the construction of Beautiful Countryside advocated by the Party Central Committee and provincial government.
Starting with natural resources and traditional construction techniques, combined with modern construction techniques, Associate Professor Wu Zongjian's team discussed and summarized the theoretical system of innovative application of rural construction. They also promoted the local model of rural construction and implanted local nostalgia as the core culture into the construction of new countryside, forming a set of theoretical methods suitable for market promotion in order to improve the quality of places. Associate Professor Wu Zongjian's methods not only put forward a system solution based on the construction technology of local materials in innovative application of rural reconstruction buildings, which form an effective mode of sustainability, replicability and popularity, but also explore a set of innovative methods including system design, ecological environmental protection construction, maintenance, and management to meet the functional requirements of rural areas. Finally, the team provided practical guidance for rural reconstruction and construction, stressed the avoidance of the degradation of traditional culture in the process of new urbanization, and of the uniformity of rural architectural forms as well as the loss of cultural identification and local style of rural characteristic buildings.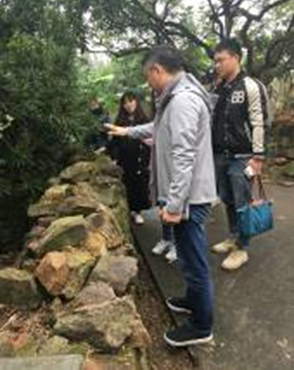 Investigating in Shawan Village, Doumen.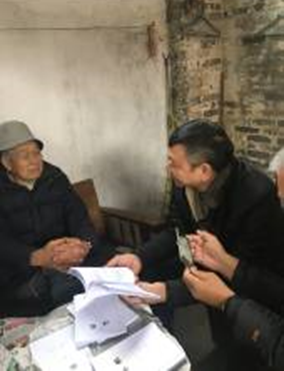 Visiting villager of Shawan Village, Doumen.